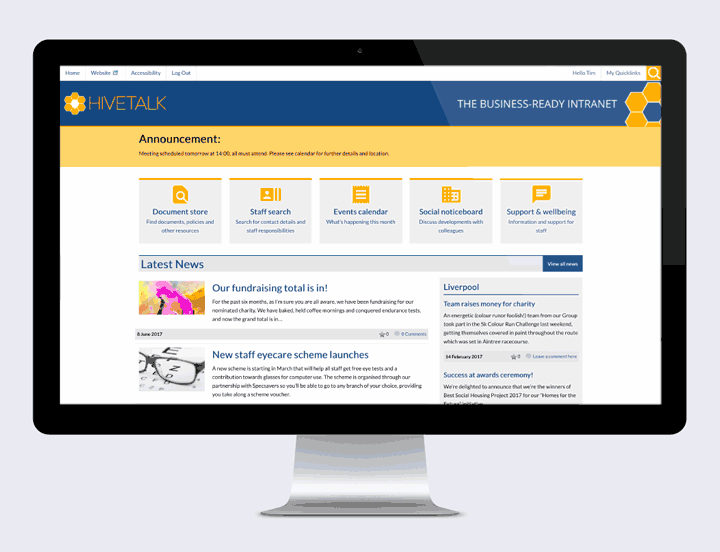 We are so pleased to introduce Hivetalk: the affordable out-of-the-box intranet designed to help keep businesses connected.
Hivetalk provides a flexible base for organisations looking to invest in an intranet. The business ready platform has been designed from the ground up to support corporate processes and open communication in a digital workplace.
Our goal with Hivetalk was to create a business improvement tool that could work for organisations of every size and budget.
We have been helping organisations boost productivity and improve collaboration through intranet deployment for 15 years. We believe we're in a unique position to deliver a low-cost intranet that has all the power of a bespoke product, at a fraction of the price.
Our launch partners include Welsh broadcaster, S4C and social impact business, First Ark.
Connect's Managing Directors, Carole Boardman and Janet Symes said: "An out-the-box intranet should be packed with engaging features; promote collaboration and transform productivity. Hivetalk combines all of this into a flexible platform that truly makes a difference.
"Hivetalk is the perfect catalyst for change – improving internal communications, dramatically reducing overheads and transforming company culture. Whatever your vision, Hivetalk is business improvement made easy."
At a glance, Hivetalk will:
Improve information flow with document repositories, staff directories and user profiles
Engage staff through comments, polls and questionnaires; display your latest KPIs, schedule events and offer remote support
Streamline processes by setting up workflows and replacing paper-based forms
Produce informative reports that highlight performance and issues
Personalise your platform with quick links and new content that can be added without technical knowledge
Celebrate successes through articles and announcements
Aid discovery with powerful search functionality
Our approach to intranet development ensures content is always targeted – keeping the experience wholly relevant to user needs.
Hivetalk offers an engaging responsive design that adapts to the user's device and screen size – allowing them to accomplish tasks on any device, from any location.
Hivetalk can be up and running in four weeks, with all features configured and ready to go.
The platform accommodates flexible hosting, allowing businesses to self-host or use our ultra-reliable cloud servers. The solution is also available via G-Cloud 9, the government's leading framework for cloud software and services.
We can provide expert training so organisations have the knowledge they need to ensure user satisfaction.
To find out more about Hivetalk, click here to view our brochure. Alternatively, call us on 0151 282 4321, or send an email to hivetalk@connectisl.com.