Connect's excellence in digital stakeholder engagement was recognised last week at the 2015 Digital Impact Awards. The SENDirect project, designed and developed in collaboration between Connect, the SEND Consortium and additional stakeholders won GOLD in the 'Best development of proprietary social media platforms' category and was also highly commended by the judges in the 'Best use of digital by a charity, NGO or NFP' category. The judges said: "SENDirect is a great project, and one that has confidently identified a need and met it effectively."
The awards programme is judged by a panel of digital communication experts from some of Europe's biggest in-house companies, including ITV Studios, Deutsche Post DHL, KPMG UK and IBM Interactive Experience. The ceremony is in its sixth year and sets the industry-wide benchmark in digital stakeholder engagement.
Carole Boardman, Connect's joint Managing Director said: "We are absolutely delighted to accept the GOLD award for 'Best development of proprietary social media platforms' for our work on SENDirect. The platform continues to go from strength to strength and is undoubtedly influencing the shape of service provision throughout the UK.
"With two prestigious award wins for Connect and SENDirect already this year, we can't wait to see where our partnership will take us next."
Brittany Golob, the editor of Communicate magazine, said: "Digital plays a role in almost every communications campaign, but it is those that push their limitations in the digital sphere, break down barriers and drive innovation that the Digital Impact Awards celebrates. This year's winners used digital to disrupt traditional communications platforms, change the way the corporate website is perceived and reach new audiences and markets."
For more information about Connect, contact Martyn Collins at martyn.collins@connectisl.com.
For more information about the Digital Impact Awards, contact Hannah Hodges at Hannah.hodges@communicatemagazine.co.uk.
For more information about SENDirect visit https://sendirect.org.uk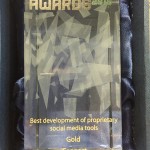 Connect – the original web development agency. We've been providing best-in-class web, data and development services to public and private sector clients since 1994.