Last week was a huge week in search, with Google pulling right-hand sidebar ads from its paid search layout and formally retiring its trusty comparison service. The company's biggest break? Launching the much-anticipated Accelerated Mobile Pages project.
Google explained the big changes to its mobile search UX in a blog post:
"Access to information is at the heart of Google's mission. Unfortunately, today, the mobile web isn't living up to the expectations people have for getting the information they need, particularly when it comes to speed. In fact, data shows that people abandon websites after just three seconds if the content doesn't load quickly – which is bad not just for people trying to get what they want online, but for the publishers who want those readers to enjoy the content they've created for them.
"That's why, last October, we joined others across the industry on the Accelerated Mobile Pages project (AMP). In just over four months, AMP has come a long way, with hundreds of publishers, scores of technology companies and ad-tech businesses all taking part in this joint mission to improve the mobile web for everyone.
"We'll make it easy to find AMP webpages in relevant mobile search results, giving you a lightning-fast reading experience for top stories. Now when you search for a story or topic on Google from a mobile device, pages created using AMP will appear when relevant on the search results page. Any story you choose to read will load blazingly fast – and it's easy to scroll through the article without it taking forever to load or jumping all around as you read. It's also easy to quickly flip through the search results just by swiping from one full-page AMP story to the next.
"Pages built with AMP load an average of four times faster and use 10 times less data than equivalent non-AMP pages. In many cases, they'll load instantly. It's how reading on the mobile web should be – fast, responsive and fun."
In short, Google's Accelerated Mobile Pages project is an open source initiative which aims to improve the performance of the mobile web. Think of it as a stripped-down version of the web – running on a modified version of HTML.
What this means for users is a much faster mobile experience, and for publishers using AMP a likely boost in search rankings, with site speed and mobile accessibility both vital for the wider user experience.
It was speculated during the announcement of the AMP project back in December that pages created using AMP may receive a handy visual label (similar to the 'mobile friendly' label), and it seems that Google is proceeding with an AMP-associated lightning bolt: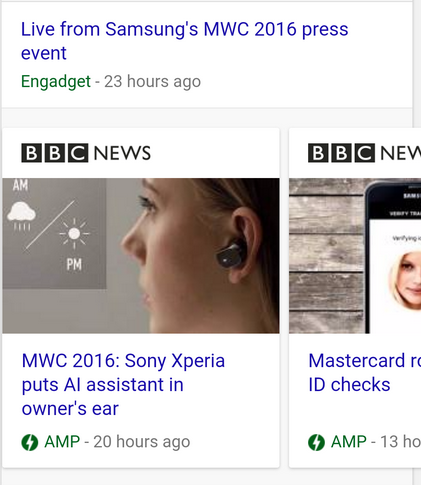 Have you come across an AMP-friendly article on Google's SERPs? How did you find the experience? Let us know in the comments!
We are Connect – the original web development agency. We have been providing best-in-class web, data and development services to public and private sector clients since 1994. Connect with us today to take the first steps towards your digital transformation.