The government's official digital platform, GOV.UK has reached a milestone two billion visits, just three years after launching.
The GOV.UK platform is the government's first attempt at providing a singular digital location for information, services and tools – presented in a consistent and transparent format for the user.
The GDS team explained: "We always start with user needs, not government needs. Our users are why we're here. Reaching 2 billion visits is great news, but ultimately it's not about numbers, it's about making a material difference to people's lives."
In 2012, the GOV.UK website replaced over 330 separate departmental websites and at least 749 former government domains. The government claims the shift to a unique digital gateway has saved taxpayers £180m since launch.
An infographic hosted on on the Government Digital Service's blog breaks down interesting usage statistics from the first three years of service, including the numbers of visits to the GOV.UK site and the trends between mobile and desktop users:
The seemingly unstoppable rise of mobile is reflected prominently in these statistics. In 2012, just 21% of visits to the GOV.UK platform came from mobiles devices and tablets. By 2015, that figure had almost doubled to 40%.
With this milestone announcement from the Government Digital Service came the news that local government microsites are also performing strongly across the WWW, confirming that the shift from traditional methods (letter, telephone) to digital-by-default communications (email, social media, dedicated portals) has been an encouraging success for the team.
An additional infographic from data-driven consultancy, likeaword illustrates key usage statistics for government microsites, including the number of visits to these microsites and the range of devices being used to access: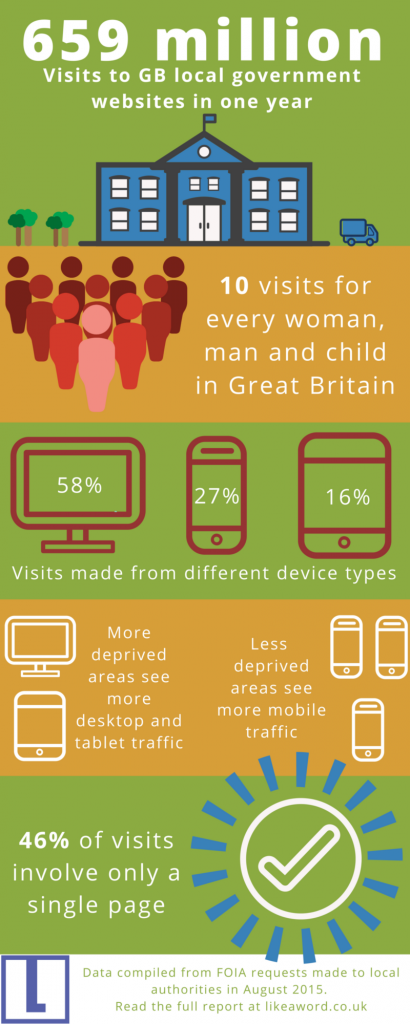 To find out more information and for any further digital announcements, visit the Government Digital Service's blog.
We are Connect – the original web development agency. We have been providing best-in-class web, data and development services to public and private sector clients since 1994.