More than half a billion tweets are sent every day – close to 6,000 every second, and an impressive 310 million people use Twitter every month.
Twitter remains THE place to go for live coverage, but sentiment suggests the network has lost some of its shine over the years.
One thing's for sure: it remains one of the key online platforms for brands – either through direct communication or research.
To find out more about how users interact with SMBs on the platform, Twitter enlisted research firm, Research Now to survey over 5,450 people from around the world that follow a small or medium-sized business in order to get a sense of how activity relates to behaviour.
Here are a couple of key takeaways from the report: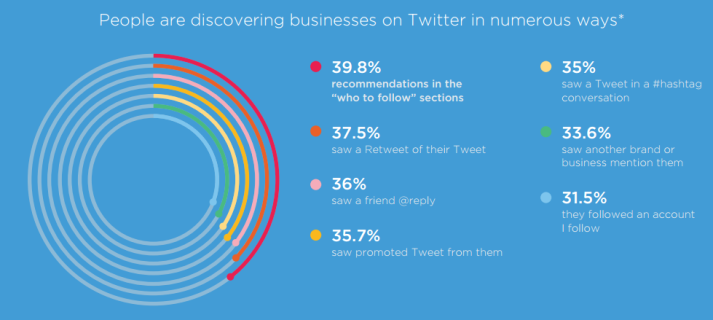 The data regularly underlines the value of retweets as a means of generating exposure – coming in as the second most common discovery method, with promoted tweets also ranking highly. A tweet with a hashtag also crops up regularly as a prominent discovery method.
Pursuing the path to purchase
What do Twitter users do after they've discovered a brand?
According to the research, more than a quarter go on to make a purchase, whilst almost 40% visit stores based on their viewing habits.

Importantly, after that initial discovery is made, users become increasingly likely to engage with those brands, with almost 80% of respondents indicating that they've made contact with brands via tweet.
Responsiveness is of utmost importance – the power of social is that it provides everyone with a voice, and that is reflected in the data. 83% of users that received a reply felt more positively about the brand as a result.
The value of a follower

Whilst follower counts can sometimes be dismissed as a vanity metric, Twitter's data shows that there's definitive value in the people who choose to follow your brand:

The stats underline the value of engagement, now that's not to say that every brand will see immediate gains from being active on Twitter, as it's all relative to your specific audience. If your customers are active on the platform, and if your target market regularly engage, then there's clear potential for you on the social network.
The full 'Value of a Follower' whitepaper is available here.

Need help optimising your Twitter output? Connect with us.
We are Connect – the original web development agency. We have been providing best-in-class web, data and development services to public and private sector clients since 1994.